---
Wasabi zuke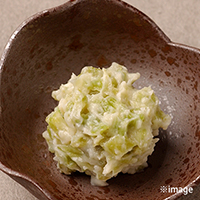 Namawasabi from Izu Hakone area, mixed with the best rice mold in traditional style. With rice or rice balls, with sake or beer.
Product
Wasabi zuke
Name
Wasabi zuke
Material
Wasabi (Japan)
Gross
1kg bag
2kg bag
Expiery date
30days from production date(unopened)
How to keep
Keep refrigerated(under10℃)
Notice
Recommend to eat sooner than later.
Wasabi zuke Product


Other Tsukemono, Deli