---
Mascot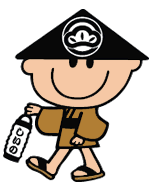 Matsumaru boy
Name
Marumatsu Shiino
Job
Shiino's mascot character
Birth year
1894
Family
Grand father,Grand mother,Father,Mother
Education
Agriculture& Fishery
Carrer of no girlfriend
120years
Secret of youth
Early to bed and early to rise. Eat delicious things.
Hobby
Drawing
Recent plan
Long live and be helpful for our customer and company.
And a girlfried......I think I have a crush on the girl at the Pot rice shop.