---
Company action
Please let us introduce Shiino Foods Employee Satisfaction and Corporate Social Responsibility
2012.July

2nd grade of Odawara General Business High School:

Internship experience


2012.July

At Kanagawa Prefecture Tateyama North High School:
Lecture of "Method of business efficiency and risk management of the organization" by President.

2012.May

Soyo High school's Interact club:

Company tour (From the connection of the President's activities in Odawara Rotary club).

2012.Feburary

Odawara Kamonomiya Junior High school 2nd Grade:Visit to Shiino company for Work place experience.

2011.November

Soyo Highschool Interact club:Company visit (President belongs to the club).

2011.July

2nd grade of Odawara General Business High School: Internship experience.

2011.June

2nd Grade of Odawara-shi Chiyo Junior High school:

Work experience at our factory.

2011.Febuary

Odawara Hakuou Junior High school 1st Grade:Factory tour for Improving communicationn and Community Learning, Work veiw.

2010. December
Kanagawa Prefecture approve Shiino's Business innovation pan based on Small and medium-sized enterprises New business activities Law.
2010.November

"The district director Award" by the Odawara Tax office for

Contribution to the Propulsion of Tax Education.

2010.October

Odawara-shi Sannomaru Elementary school:

Lecture of "What is work?" by the president.

2010.October

3rd grade of Odawara Toyokawa Elementary school:Visit and experiece of "Making processed food".

2010.Febuary
Odawara Reformatory:Lecture of "Liberal peace" by the president.
2008
Appointed as Committee of "Urban development of Odawara Station and Castle area" by Odawara-shi.
Appointed as Committee of "Jyu-ro Ume brand Improvement Project" by Odawara-shi Agricultural Policy Division.
2013.March

Renew the business uniform with Impressive and Functional design. On the front we embroidered our direct sales shop's logo. All of our staff wears it. (Except in the manufacture line)
We expect our sense of community to grow and improve our team works beyond departments.

2013.Feburary

Change the Logistic man's uniform to overalls. Functional for logistic works and avoid breaking the products by no belts.
2011.September

Hold "Family open day": Tour and experience for understanding our company and work to every employee's family members.
2010.March

Adopt Child care allowance system for Declining birthrate and Employee satisfaction.
General employer action plan(PDF file 76KB)
2009
Review Childcare provision (including male employees),and intake Work-at-home-system for Work Life Balance improvement.

2009
Social gathering parties and events as Company trip by full company burden.
2012.November Renovation of the Sales and distribution center.Became more comfortable and functional.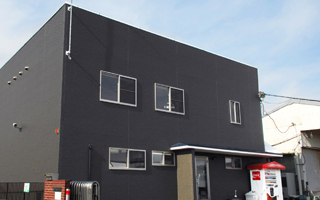 We designed the apperarance calm, and window size for necessary and sufficient light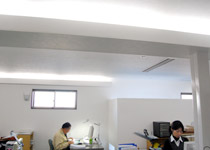 In the office, we use the LED lighting. Embedded so that the light does not hit directly and create a calm atmosphere. Dimming light for the desk.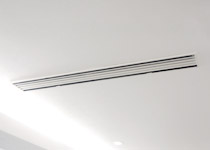 To increase the heating efficiency, we disposed the circulator on the ceiling.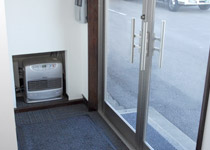 We placed the heater by the entrance to avoid the temperature going down in winter.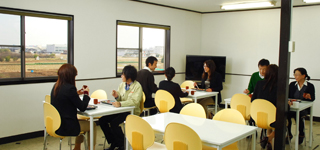 The dining room is has bright atmosphire to enjoy happy lunch time.You can see a beautiful veiw from the window.
Watch Mount Fuji and relax.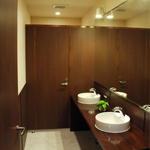 A big mirror and amenities for the dressing room.